Canoeing
The emphasis with canoeing is on communication and quick decision making between the two or three paddlers. You will learn basic strokes, boat handling, and safety skills. Once paddling and manoeuvring skills have been mastered, the group will be encouraged to practice their skills through a series of games and scenarios. The objective of our canoeing activity is to teach participants how to enjoy canoeing correctly and safely while having fun. Students will also discover the consequences of good communication .
Archery
Our outdoor range is set up to instruct students on the basics of archery. Qualified instructors encourage children to develop their technique and show awareness of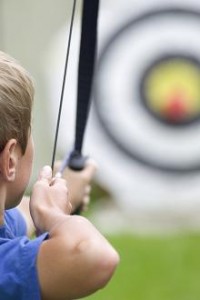 their eye-hand coordination and ability they have to follow all safety measures. Groups can progress to advance skills and participate in point scoring to test their skill level.
Mountain Biking
This is a great way to explore remote bush and terrain whilst covering quite a distance.  The briefing will cover mountain biking skills and techniques that will soon be put to the test. Not only will your instructor ensure your safety but will point out interesting facts to add to your understanding of your environment.  There are a variety of tracks and trails to suit different fitness and skill levels.  We can also incorporate environmental and navigational games and challenges.
Bush Walks
Bush walking is a more personal experience and gets you up close and personal with the unique flora and fauna of the Biosphere. Learn bush skills, navigational skills, identify edible plants, learn about the local history and culture, the options are endless. We are situated on the famous Noosa Trail Network, so we can make your bush walk as simple or as challenging as you want.
Abseiling
Mt Tinbeerwah is the remnants of an old volcano which lies in the Tewantin National Park. Its cliff face is 265 metres above sea level and is the site used for our Abseiling Programs. Abseiling is an integral part of climbing, but in itself is a fun and exhilarating experience. Whether you'd like to include it in your school camp program or wish to learn about the whole range of abseiling techniques, we will tailor an activity to suit your needs.
Expeditions
Teen Mission is a natural starting point for an expedition and The Outdoor Education Consultants are your natural partners in organising this. Whether it is a simple overnight eco camp to a multi-day adventure we have the equipment and expertise to make it a trip of a lifetime. Each expedition has different objectives and goals so we will plan yours with you. We know what works and what doesn't.
Team Building
This is a really important part of many camps and one that we really enjoy. Working as part of an effective team is one of the most important skills young person can learn. We take this important lesson and make it fun, with direct consequences for good team work and not so good. Our briefs and de-briefs make sure you get the most out of the activity. We have too many activities to list here, so please talk to us about your requirements.
Initiatives and Challenges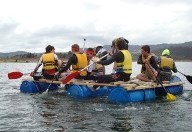 Unless the team or individual is not pushed outside of their comfort zone then the learning's from an initiative or challenge activity will be diminished. There is a tipping point however when an initiative or challenge can become a negative experience. Our Instructors are experienced in achieving this fine balance. We find that the reward, sense of achievement, sense of self-worth is directly proportional to the size of the challenge overcome and amount of initiative it took. Our briefs and de-briefs make sure you get the most out of the activity. We have too many activities to list here, so please talk to us about your requirements.
Wet weather alternatives
Most activities can take place in light rain and showers. With persistent hard rain we will switch to our wet weather alternatives, utilising our under cover areas.
Night Activities
Astronomy – Teen Mission's lack of light pollution makes it ideal for this amazing experience
Spot Lighting – Discover the amazing nocturnal wildlife and activities