Why Choose Elanda Point?
"Staff are always friendly and approachable and they will do anything for you to make your experience as good as they can".  2015
The Outdoor Education Consultants is a Sunshine Coast Company cross-linking Australian Curriculum outcomes in science, geography and history with outdoor recreation.
Operating at Elanda Point Education and Adventure Centre located in the middle of the only two UNESCO designated Biospheres in Queensland means that we are also blessed with cultural, historical and environmental/ sustainability learning opportunities. This makes for a unique hands-on classroom and when combined with outdoor recreation activities, makes learning a whole lot of fun!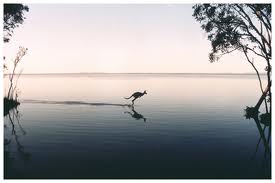 Part of our unique approach is that we engage with schools to develop programs that will improve the efficiency of your school's limited excursion time.  Imagine if your school could cover aspects of your classroom curriculum while on their school year level camp, or while attending a half or full day excursion.  Imagine if incorporated in that day excursion was a fun activity or two such as canoeing or bushwalking and all those wonderful team building, communication and leadership skills that outdoor recreation emphasises.  In doing so, we will save you time and money.
Biosphere
 Our location – In the UNESCO Biosphere & The Great Sandy National Park
At Elanda Pont we are living proof of the philosophy of a biosphere reserve.  We integrate the management of land, water and diversity by practising sustainable solutions in the way we run our curriculum and camp programs.
Elanda Point is in the middle of two Biospheres and is in the Macleay-McPherson overlap zone where you find many flora and fauna species at the southern and northern limits of their habitat.  One third of all Australia's bird life (more than Kakadu) is found here along with 62 distinct eco-types.

We are also only one of two everglade systems in the world, the other system being the Florida everglades. The region is one of the most diverse in Australia, spanning a sub-tropical to temperate 'transition' zone, and contains representative species from both climates, including some that are unique to the region.
Obtaining Biosphere status gives recognition of these values at the international level. It is a special place that is also rich from a historical, cultural, scientific, geographic and sustainability perspective and full of teaching opportunities.
For more information on the Biosphere, click here.
Our Food
We prepare all our food using fresh produce from local growers and farmers. The fish will come from the lake, the ham and bacon will be locally smoked and your vegetables and fruit are organic and locally grown. Our aim is to provide healthy food choices to young people while supporting local farmers, growers and business.
'Excellent – love the time and trouble taken with the food, variety was awesome – best camp food ever.' 
'Lovely food, no complaints. All dietary concerns addressed' 2015
We believe our food also makes a big difference to children's nutrition intake while on camp. The healthier food choices sustain their physical and mental needs longer throughout the day without using sugar and highly processed food. The adults also appreciate the complimentary fresh locally roasted coffee.
If you would like to see what all the fuss is about and see some sample menus, click here.
Our Staff
Our instructors and staff are all qualified and highly experienced and love what they do.  Not only will your students be in safe and trusted hands, they will actually have fun!  We know the Cooloola Recreation area like the 'back of our hand' and we know how to interpret it for the education and development of others.  We understand that going on a camp is a  big thing for many children, it is an opportunity to discover strengths and abilities you didn't know you had, to gain a greater confidence and awareness of yourself, others and your environment. It can also be quite daunting and challenging and all staff are cognisant of that.  Staff are experienced in working with children and are attuned to the signs of a student who needs a gentle reminder of all the positive aspects of camp.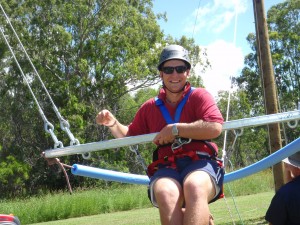 'Friendly, helpful and great with the students, good sense of humour and supportive of all when needed.' 
'Approachable, easy going, nothing is a problem.' 2015
As a Registered Training Organisation that trains Adventure Guides and Instructors, we know the importance of well-trained people, standards, methodologies and safety. We work closely with the Teachers to ensure clear communication leads to a stress free experience. This allows you to spend more time with those students that need it.
If you would like to know a bit more about us, click here.
Activities
We pride ourselves on delivering a well structured program for your camp to ensure your year level objectives  are achieved.  Kids can try our Giant Swing, Pampa Pole or Artificial Climbing Wall. In addition to all the classic favourites, we are told that we excel at team building and challenge games.
The Outdoor Education Consultants are able to offer a wide range of learning outcomes which are directly linked to the National Curriculum and many of which are unique to Elanda Point.
Whether you choose to visit for a day or arrange a week long eco-adventure camp we have qualified teachers who can work with you to help facilitate your visit to ensure you can achieve the curriculum outcomes you need.
2 Persons Giant Swing
Pampa Pole
Rock Climbing Wall
Canoeing
Kayaking
Archery
Mountain Biking
Bush Walks
Abseiling
Expeditions
Team Building
Initiatives and Challenges
Wet weather alternatives
Night Activities
For more information on activities, click here.
Our Accommodation
Our Cabins are nestled beside the shore of Lake Cootharaba in The Great Sandy National Park. Using 22 cabins, each room contains 4 beds (two double bunk beds), with a sleeping capacity of 88 people. As each cabin is separate it encourages students to be more independent. Toilets and showers are close at hand.
"Perfect set up for students, easy to keep, and tidy." 
For more information on our accommodation, click here.
Pricing and Booking Conditions